Téléchargez gracieusement UTOPIE DU CRIME/UTOPIA OF CRIME de MARK FEATHERSTONE.
Dans cet essai, Mark Featherstone se propose d'explorer ce que Henry Giroux a surnommé récemment la « culture de la cruauté » en se fondant sur son observation de la violence endémique à la culture américaine et à ce qu'il appelle l'utopie cinétique du capitalisme néolibéral mondialisé. Ce dernier se caractérise désormais par une nouvelle forme de futurisme violent, comparable à celui que célébraient Marinetti et Boccioni dans l'Italie des années 1920 ; de la même façon que le futurisme entretenait des liens avec la pensée fasciste et nationale-socialiste, cette nouvelle forme culturelle semble en rapport avec une idéologie des élus et des damnés appliquée au champ du capitalisme globalisé. En s'attaquant aux réalités du territoire, de la société et du corps humain, la « culture de la cruauté » produit ce que Paul Virilio nomme la « désertification du monde ».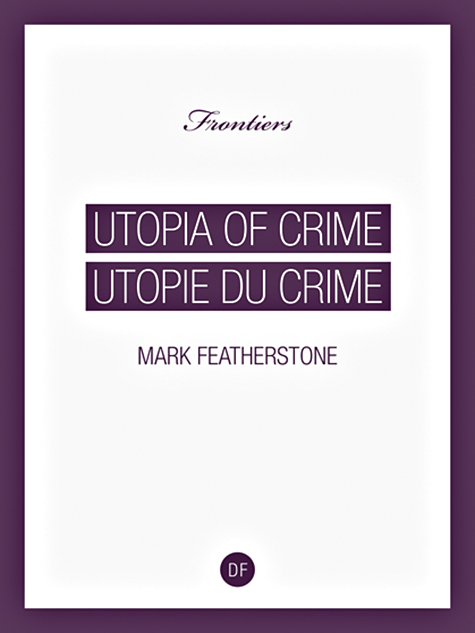 In this essay, Mark Featherstone proposes to explore the « culture of cruelty », in reference to Henry Giroux's work, through a consideration of the violence endemic in American culture and what he calls the kinetic utopia of globalised neo-liberal capitalism. The neo-liberal capitalism has become characterised by a new brand of violent futurism comparable to the form celebrated by Marinetti and Boccioni in 1920s Italy and that in much the same way that futurism connected to Fascist and National Socialist thought, this new cultural form can be seen to have links to an ideology of the saved and the damned in global capitalism. Mark Featherstone explores a new brand of post-modern apocalypticism written into the new religious fundamentalisms that have emerged into the light of our hyper-rational globalised world.
eBook © Mark Featherstone (Trad. Hélène Clemente) – Photographies © DR